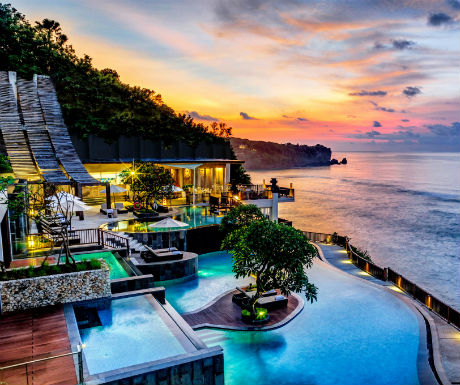 Bali is repeatedly voted as the world's best tourist destination, and it doesn't take a genius to work out why. With white sand beaches, emerald green rice terraces, immersive culture and authentic spirituality, to many people this Indonesian island perfectly encapsulates the idea of an exotic, tropical paradise. Home to some of the world's best spas, retreats and resorts, choosing where to stay in Bali can seem an impossible task – so here are five of the most unique luxury resorts for the more discerning traveller.
1. Samabe Bali Resort
Samabe Bali is perhaps the best example of unabashed Balinese luxury. Perched upon the picturesque cliffs of southern Nusa Dua, Samabe is a spectacularly beautiful and intimate luxury resort. With only 81 suites and villas dotted through eight hectares of verdant land, Samabe offers a sense of peace and privacy that's missing from other larger resorts.
The resort provides…
Categories: Uncategorized