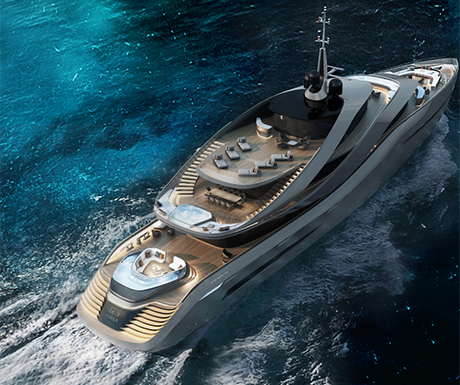 The craftsmen at Italian luxury yacht builders, Rossinavi, have joined forces with the iconic design studio, Pininfarina, to create an elegant superyacht that takes luxury and creativity to a whole new level. The styling house based in Turin, Pininfarina, are best known for some of the most exotic Maseratis, Ferraris and Alfa Romeos.
Aurea is inspired by the lines of the sea
The 70 metre superyacht, Aurea, takes its inspiration from the lines of the sea. Its fluid lines are a hallmark of Pininfarina's flowing, iconic style. The yacht's shape is both dynamic and harmonious. Its upper band frames the bridge perfectly and then descends downstairs, where it joins the owners deck seamlessly.
An evolutionary superyacht
Aurea is an evolutionary superyacht designed for those of you who wish to explore the sea in style. The boat features expansive exterior spaces with water access on either side of the hull and comes…
Categories: Uncategorized