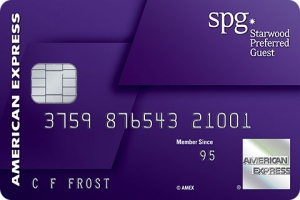 Don't miss out! Join the thousands of people who subscribe to our once-daily email with all the best travel news. Some links on this page may pay me a commission – as always, thanks for your support if you use them
For the past few months there have been increased offers on the Starwood Preferred Guest®  Credit Card from American Express and Starwood Preferred Guest® Business Credit Card from American Express.  The bonuses on these cards have typically been 25,000 points, but now there are 35,000 point bonuses.  I know many people have already taken advantage of these offers, but if you haven't, just take note that they expire in about a week's time.
You can find these cards on a list of top personal credit cards here and a list of top business credit cards here.
Details on the Starwood bonuses
The 35,000 point bonuses on these cards is the highest that we've seen before.  The bonuses have gone up to 35,000 points once before last summer, but then it was a…
Categories: Uncategorized