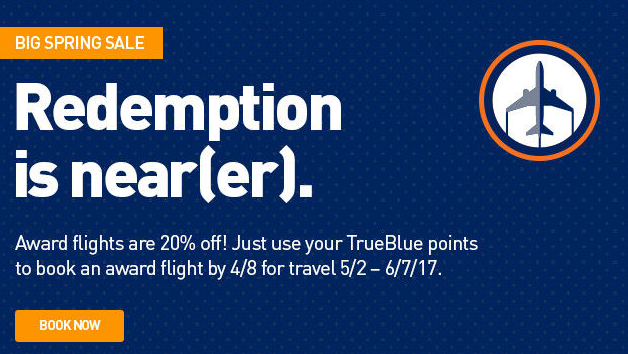 Don't miss out! Join the thousands of people who subscribe to our once-daily email with all the best travel news. Some links on this page may pay me a commission – as always, thanks for your support if you use them
Living in NYC, I've amassed my fair share of jetBlue TrueBlue points, both from the JetBlue Plus Card and by taking advantage of their points promotion targeting Virgin America last year. Now, if you're like me, it's time to put those points to good use!
Until at 11:59pm EST tonight, when you book an award redemption on jetBlue, you'll save 20% of your points! This applies to all fare levels, including Mint! If you take advantage of this offer, travel must happen between May 2 and June 7, 2017, with blackout dates of 5/24 – 5/30. Discounts are only available on Tuesdays, Wednesdays and Saturdays.
Where to?
I've highlighted a few examples for 5/16 below to…
Categories: Uncategorized