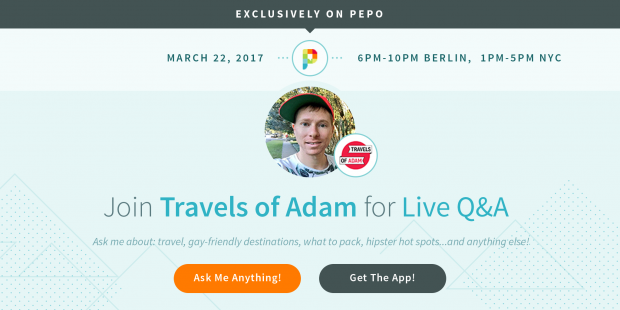 For the past month or so, I've been using a new social media app called Pepo. It's a mix of a lot of our favorite features from other social media but all in one place. A way to connect with others and share stories, tips and advice. Through the app, you can do a number of different things to make these connections. Each one unique and a surprisingly fun way to interact with people from around the world.
As an early adopter and sort of brand ambassador, here are my tips for using Pepo for new connections. It's free, easy and (actually) fun. Sign up here and then make sure to join my Travels of Adam Pepo Channel where I'm always sharing my latest and greatest travel tips.
EXCLUSIVE!
Join me for a live Q&A through the Pepo app on March 22, 2017, 6-10pm CET (1-5pm EST)
Just make sure you download the app and join my Travels of Adam Pepo channel!
4 Fun Social Features on Pepo
• • •
Live Q&As
With the newest…
Categories: Uncategorized